Central Region Meeting
1:00 PM Feb 8 - 5:00 PM Feb 9, 2021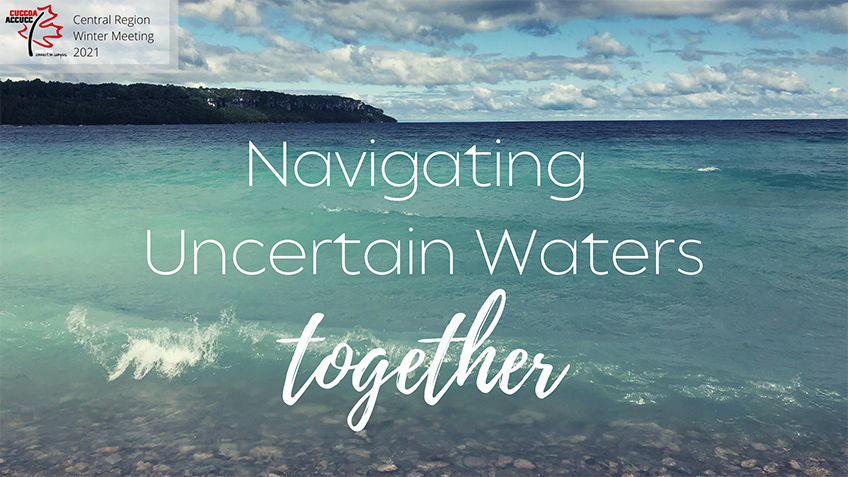 Monday February 8, 2021

All times listed are in Eastern Standard Time (EST)


 1:00 - 1:05 pm
 Opening Remarks
1:05 - 2:00 pm

Welcome Keynote - From Diva Dogs to Do-overs: a dog musher's perspective on being Wildly Resilient

(Chris Heeter)

2020 was a devastating year for the meeting industry.  And, we are a resilient bunch.  It is time to look forward with hope and optimism (when we can muster it).  And Chris' sled dogs are resoundingly ready to take us there.  With hilarious stories from her sled dog team and remarkable ties back to the world of meeting professionals, Chris Heeter guides us inside, to a place of Wild resilience and connection.  Whether you are staring down the throat of continued virtual events or dipping your toes back toward face to face meetings, your guests/attendees need, even crave, your Wild side — your creative energy and ability to see connection and engagement in new ways.  Get ready to laugh at the dogs (and Chris') antics even as they show you how to think expansively and help you, your team, and your clients be Wildly Present, Wildly Original, and Wildly Welcoming.  Because "When we meet (in person or through tiny screens), we change the world."

 2:00 - 3:00 pm

Round Table – Interactive Session
Reopening during a pandemic!

Break the schools into four or five groups. 

Ancillary departments - Accommodations only
Ancillary departments - Full Conference Services
Centrally funded - Accommodations only
Centrally funded-Full Conference Services
(5th category could be a third-party management company external to the University)

Each group is given the same topics to discuss and each group is moderated to ensure all schools have contributed to the conversation.

Each group will be given the same questions below and each question will get a maximum of 15 minutes each.

Is your school all in or not operating or only parts opening for the 2021 Conference Season?
What are your protocols for reopening for the 2021 Conference Season.
Was there a financial viability/reputation pc reviewed?
Did you consider any pricing considerations relating to new Covid protocols or current market tolerance?

 3:00 - 3:10 pm
 Break
 3:10 - 4:00 pm

Concurrent Session #1 – Viability Review for Reopening Summer
Accommodations during COVID times


This session will explore steps to create a business brief for reopening your 2021 summer accommodations during a pandemic.
Topics that will be reviewed and discussed are:
• Understanding your accommodation business history and forecasting 2021 occupancy during these unprecedented times.
• Research your opportunities and obstacles in consideration with all stake holders
• Review and validate assumptions with data
• Prepare considerations and timelines for re-opening

 

Concurrent Session #2 – Virtual Conferencing Services Support (Panel)

Learn how your colleagues are making the transition from in-person to virtual conferences to support the needs of events during the COVID-19 pandemic. This panel will answer questions designed to help you determine how to make the transition to profitable virtual event hosting through the exploration of challenges and successes.

 4:00 - 5:00 pm

 Virtual Cocktail Hour

Grab your drinks and join us for a virtual social hour using the Wonder virtual platform! You can "walk" around the room and catch up with your colleagues! This will be a casual social hour, and we will also take a few minutes to teach you about the Wonder virtual platform.
This session will be taking place on the Wonder website: https://www.wonder.me/r?id=45d21b41-97f4-40ba-a2de-9ec0eb8f9cbc


*Google Chrome is recommended for this website

Tuesday, February 9, 2021


All times listed are in Eastern Standard Time (EST)
 11:30 am - 12:30 pm
 Central Region Business Meeting 
 12:30 - 1:00 pm

Break
Opportunity to check in on the kids, get a quick lunch and network using Wonder Platform

 1:00 - 2:00 pm

Concurrent Session #3 - A Re-Opening Case Study
Considerations and Risk Management when opening your doors to external clients again.

St Lawrence College opened its doors to external rentals in Brockville, Cornwall and Kingston, Ontario in October 2020. This session will outline what was needed to prepare for reopening and what documentation and processes were constructed in order to receive approval from college executives.
The presentation will also address some of the calculated risks of reopening to the public, identify certain "what if" scenarios (i.e. What IF someone is experience Covid symptoms during an event), and share some examples of things Event & Banquet Services had to re-consider once the doors were open. The session will end with a Q&A.

Concurrent Session #4 – Social Media Marketing During a Pandemic
In an engaging 45-minute session, Jessica Petrella will review how Brock University determined the goals of social media marketing during a pandemic and will indicate the steps taken by the Conference and Event Services Team to keep clients and colleagues informed during the difficult time.

The presentation will also include how Brock's communication with clients via a monthly newsletter and a blog that is hosted on the website, then shared to LinkedIn.

 2:00 - 3:00 pm

Concurrent Session #5 – Nextech AR - How to Showcase Your Venue Virtually
Join Dr. David Cramb (Dean of Faculty of Science, Ryerson University) and Paul Duffy, President of Nextech AR, on how Virtual Events and Augmented Reality are being applied at Ryerson University. The duo will provide current and innovative applications of how technology and education are converging in Virtual Conferences, Virtual Convocations, Virtual Campus Tours by offering students "get out of your seat" experiences.

Ryerson University and Nextech AR have recently partnered to offer RALE (Ryerson Augmented Learning Experience) to offer students in the Faculty of Science Virtual Labs that supplement their existing course work. https://www.ryerson.ca/news-events/news/2020/09/faculty-of-science-delivers-ar-holograms-in-virtual-labs/

 

Concurrent Session #6 – Catering During a Pandemic
(Panel)

This session includes a panelist discussion from Food & Beverage Management and Conference Services professionals in the region.
Panelist include:
Christine Costa-Wilson, Director, Food and Conference Services at Lakehead University
Deborah Langford, Director of Ancillary Services, Bishop's University
Robert Sexton, Area Manager, Food Services Operations, University of Waterloo

During this session we will learn from the panelists' experience on best practices and planning resources for operating safe catering and food services during COVID-19. We will discuss trends, re-opening plans and marketing COVID safe food options. The panel will provide attendees with support and guidance as we all try to navigate during this uncertain time.

 3:00 - 3:10 pm
Break
3:10 - 4:00 pm
Debrief Round Tables – Interactive Session
Moderators from each round table group from previous day will present their summary of each interactive session discussed from the table leaving time for a Q&A
 4:00 - 5:00 pm

Closing Keynote - Food Service Current Challenges and Opportunities Ahead
Mary Baxter, 2020-21 CCUFSA President and General Manager, Algonquin College - Food & Conference Services

Discussing the current state of food services in post secondary institutions and trends that may carry forward into recovery, including how Conference Services campus partners will be part of our recovery.

With over 25 years of experience in the hospitality industry, Mary Baxter is General Manager of Food and Conference Services at Algonquin College responsible for food service operations, banquets, catering, and conference operations. Mary holds a Bachelor of Commerce and a Masters of Education in Policy and Administration. She has a passion for welcoming hospitality, exceptional service, and great food.
Registration
CUCCOA Members - NO COST
Non-Member: $35 
NOTE: Deadline to register: Friday, February 5, 2021 by 4:00pm.
CANCELLATION POLICY
Unless specifically stated on registration materials, the deadline to receive a refund less a $5 administration fee is 10 business days before the event.
If an attendee is unable to attend the Conference based on serious illness or death (of self or a family member), a full refund may be granted.  Proof of illness may be requested by the Board of Directors. Requestors shall submit the request in writing to the CUCCOA Office within 15 days of the start of the event. No refund shall be granted for cancelled or missed flights and/or inclement weather.
Substitutions for person attending can be made up to 72 hours prior to event without charge.
CUCCOA regrets that refunds will not be given for no-shows.
TESTIMONIALS
CUCCOA is an excellent organization to become involved with to network and learn more about summer accommodations, event planning and campus conferencing. There is a wealth of knowledge in the organization.
Susan MacKenzie (Laurier)
If you want resources to help you in your daily work, joining CUCCOA is the best membership one can take while operating the in conference industry. 
Nancy Trottier - McGill