CONCORDIA UNIVERSITY
Concordia University defines next-generation education by anticipating the future of what a university can and should be. Our research and teaching is daring, transformative and distinct with a "big thinking" approach that examines societal issues from an expansive, interdisciplinary perspective. Concordia is an open and engaged university that encourages students to become active, critical and global citizens. As part of Montreal's fabric, we are deeply connected to the city — and we are deeply connected to the world at large. More than 46,000 students choose Concordia each year. Globally, we have nearly 200,000 graduates.
Concordia University has secured a unique legacy for supporting and developing people and their aspirations in order to enrich the world's wealth of knowledge, bridge communities and, most important of all, enable individuals to grow and contribute.
This legacy is recognized for its singular approach to learning and doing. In our classrooms and labs, in our libraries and on our streets, the Concordia community is resolutely anchored to the real world — open and engaged, compassionate and caring. It's an approach that dates from Concordia's founding in 1974, which brought together Loyola College (1896) and Sir George Williams University (1926).
Concordia is a highly diverse community in quite possibly the most cosmopolitan city in the world. Of the nearly 46,000 students studying at our downtown and west-end Montreal campuses, 11% are international. Indeed, we welcome students from more than 150 countries, and maintain formal ties with over 100 institutions in 33 countries.
Quartier Concordia is a place where a dynamic urban energy is in unique balance with a lively, diverse community. A place where groundbreaking research stems from a free and fluent exchange of ideas nestled in a neighbourhood full of diversity and life where the colours of our shared environment shine brightly. Cafés and restaurants, green spaces, extraordinary architecture, an active 24/7 vitality… it's all here.

UNIVERSITY CONCORDIA CONFERENCE CENTER (MB 9)
Located on the Sir George Williams campus in the heart of downtown Montreal, Concordia University's new Conference Centre opened in the Fall of 2017. Located on the 9th floor of the John Molson building, the new space offers an environment multifunctional and state-of-the-art facilities for the entire Concordia community.

Offering superb city views and contemporary design, this conference center includes seven meeting rooms with retractable walls and a magnificent lobby. Ideal space to host all-inclusive conferences with activities ranging from cocktails, banquets, breakout sessions and plenaries.

DOWNTOWN CAMPUS MAP
For your event, we can personalised our campus map and provide a copy to each delegate. It is easy to move from building to the other using a color code applied to each entrance door of our buildings.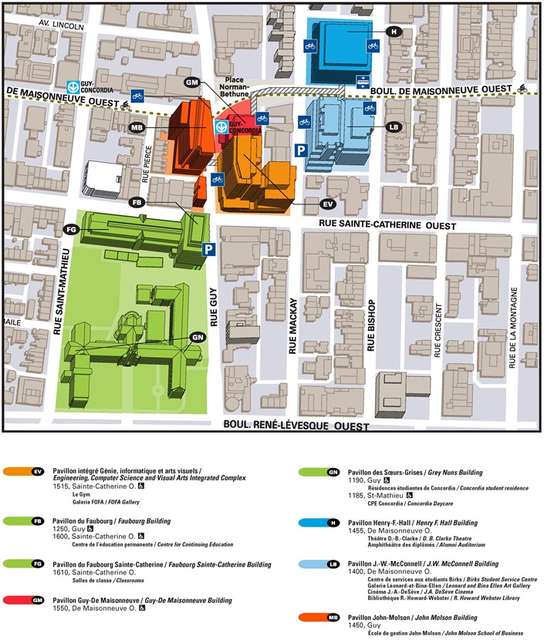 SUSTAINABILITY AT CONCORDIA
Concordia has fully incorporated sustainability into its strategic framework. From operations to food services, sustainability is at the forefront in many ways:
Buildings & Accessibility
Concordia was named the most energy efficient university among the six major universities in Quebec for 2014-2015, with the lowest energy consumption per unit area and decreased greenhouse gas emissions by 6% between 2011 and 2015
There are three LEED certified buildings at Concordia:

PERFORM – LEED Gold
MB – LEED Silver
Genomics – LEED Gold

The Sir George Williams Campus is directly linked to the subway by a network of underground pedestrian walkways
Food
In August 2016, Concordia was certified as a Fair Trade Campus
All residence dining halls, non-franchised campus cafés and student-run cafés at Concordia offer 100% fair trade coffee, three fair trade teas and one type of fair trade chocolate
Since 2019, Concordia is working with La Tablée des Chefs to reduce food leftovers
Concordia University has ambitious targets in food service provider contract:

local and sustainable sourcing; cooking oil is sold or donated for biofuel use; composting throughout the kitchens and cafeterias; trayless dining to avoid waste; environmentally preferable packaging; and a daily selection of vegan and vegetarian options are available in dining halls and retail locations. 
Waste
There are 32 active waste management projects lead by Concordia's students, staff and faculty
As Quebec's first university to compost the organic waste of both its campuses
Over 40% of Concordia's waste is compostable so more compost bins are coming to both campuses
Concordia is a water bottle free zone since 2011
Events
Launched a virtual sustainability guide and certification in March 2022 and renewing it's in-person version for Fall 2022. s and works with suppliers committed to eco-responsible measures and products:

Reducing the number of signs produced and prioritizing printing on recycled cardboard and paper
Sustainable gifts for speakers or participants, avoiding single-use plastics and prioritizing locally and ethically made gifts made from eco-friendly materials
Encouraging the use of water fountains and filling stations by providing a campus map
Prioritizing large water containers with slices of fresh fruit to make it appealing to participants
Encouraging participants to bring their own reusable cup or water bottles, or provide reusable mugs or bottles as part of the gift bag
Using reusable dishes, with waste management supported by on-site waste ambassador